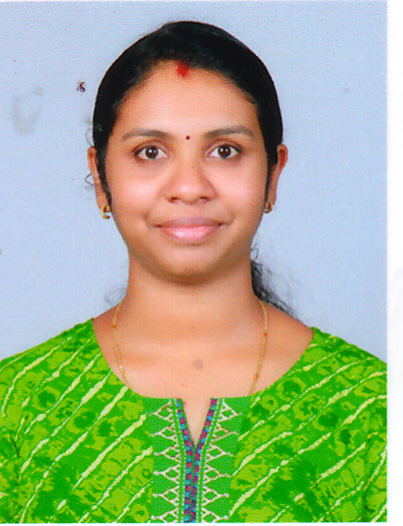 Radhika P.C., Ph.D
Assistant Professor
Commerce

Ph.D awarded – March 2016( M.G.University, Kottayam)-Thesis titled- "Development of a Model for Tourism for the State of Kerala".
UGC Minor Research Project completed- Title of the project- "The effective implementation of Swacth Bharath Mission at tourism destinations in Kerala", funded by UGC India, OrderNo:2383-MRP/15-16/KLMG017/UGC-SWRO, April 2016 to  May 2018.
Projects Guided

20 Undergraduate projects were guided
M.Phil project guided-Anju Elamatha(2019), Sacred Heart College,Thevara,  A Study on Role Of Kudumbasree In Financial Inclusion With Special Reference To Eloor Municipality In Kerala, December 2019.

Published 15 journal articles
4 papers were published in conference proceedings
13 papers were presented at the international conference and
6 papers at national conference
Served as Resource Person- Bhavan's vidya mandir ,Girinagar,Kadavantra-682020
Served as the external examiner -St.Teresa's College, Ernakulam.
 FDP/ Workshops attended:-

FDP on Accounting treatment of GST, Bhavan's Royal Institute of management, Tripunithura, 24th Nov 2018.
Research Methodology and Statistical analysis: New trends,Rajgiri Centre For Business Studies, Kakkanad, Ernakulam,16-18 July 2013.
 'FDP on Structural Equation Modelling, Indian Institute of Management Kozhikode(IIMK),09-10 Aug 2013.
"Research Methodology and Data analysis using SPSS",Department of Commerce, St.Albert's College, Ernakulam,24 June 2013.
FDP on Data Analysis using Excel,Department of Management Studies, Sree Narayana Gurukulam College of Engineering, Kolencherry,6-7 Sept 2012.
Research Methodology and Statistics,Inter university centre for disability Studies, M.G.University13-17 Sept 2011.